Here are some of my Electric Airplanes
---
Just off the Work Bench ...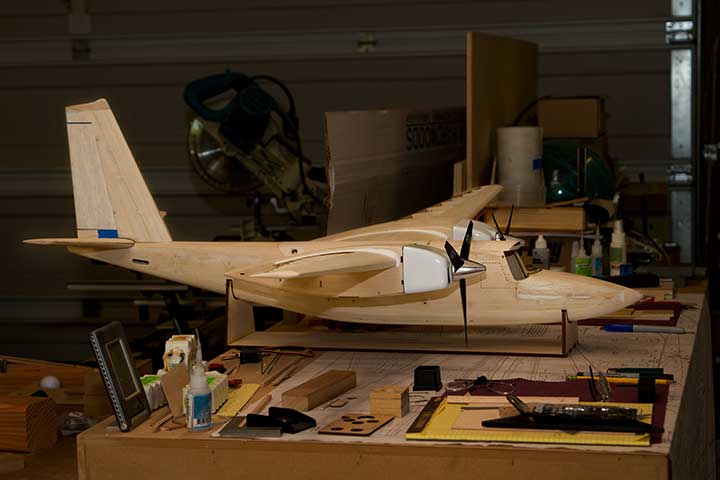 Rockwell Aero Commander Shrike from Top Notch Products.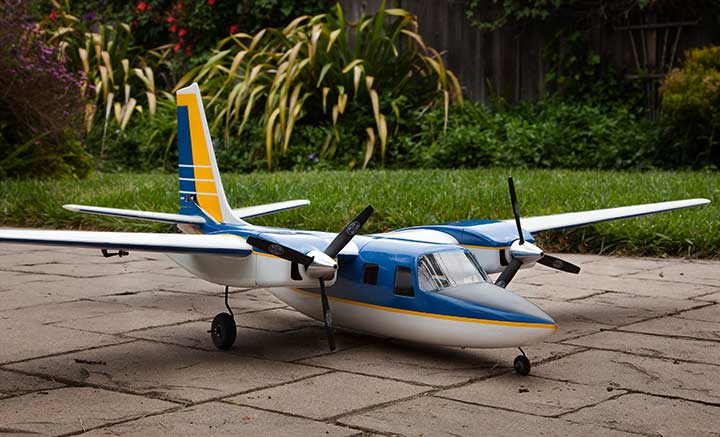 From a box of wood, to ready to fly airplane, in just 8 months.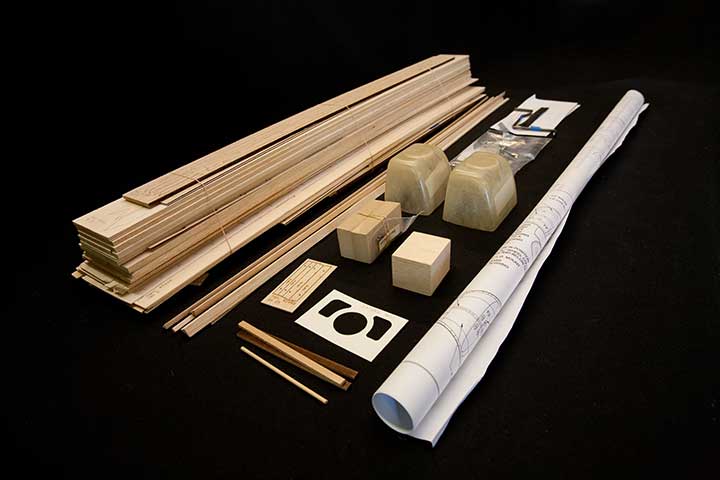 ---
Groove-480 kit from Stevens Aeromodels.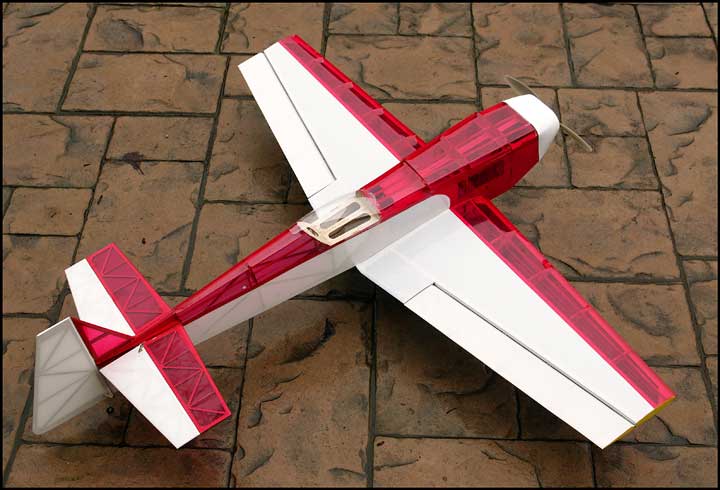 GREAT flying airplane. Tracks like it's on rails. Precision aerobatics. Probably my best flyer.
---
FireStorm kit from Mountain Models.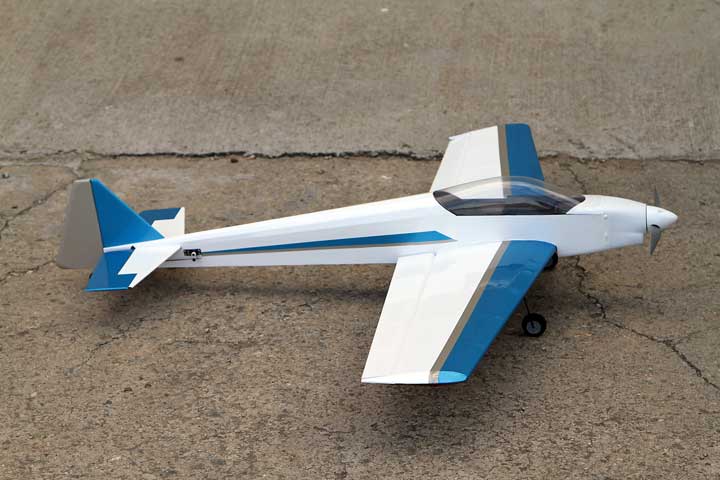 Really sporty aircraft with RETRACTs. Very fast. Setup with BIG electric motor. Goes fast.

Did I mention it's fast?
---
Adrenilin Rush Pylon Racer plans from Stevens Aeromodels.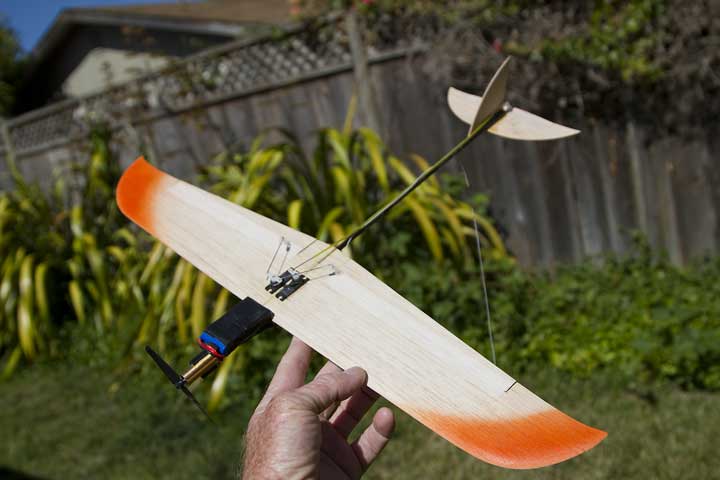 It's just a sheet of 1/4" balsa that you shape into an airfoil, and a carbon rod. These are pylon racers. Go fast, turn left.
A friend and I built two of them, then he wrote an article about them for one of the R/C magazines.

Racing around the pylons...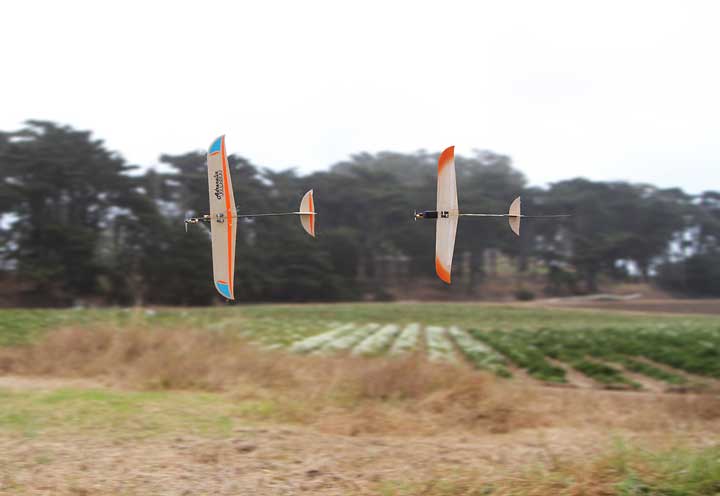 ---
Shaft-400 and AXIS-480 kits from Stevens Aeromodels.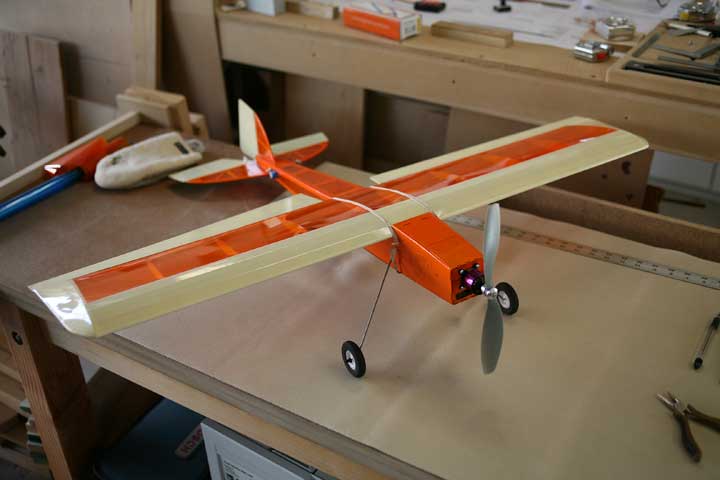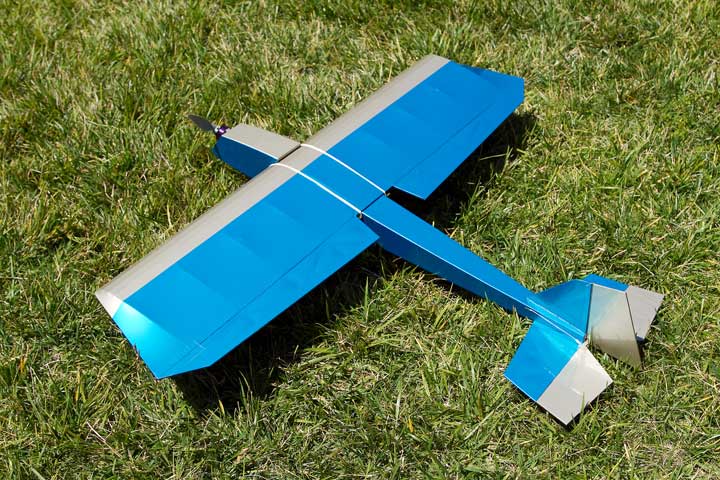 These are both based on the Ugly Stick design - square box fuse, rectangular wing.
Shaft-400 (orange plane) has flat bottom wing, AXIS-480 (blue plane) has symmetrical wing.
Quick and easy kits to build. Fun flyers. Can fly in small areas. Also flys great with floats:
Click Here to see a video of it flying off the San Lorenzo River.
---
Texan AT-6 TopFlight ARF kit for GAS power. Converted to Electric Power.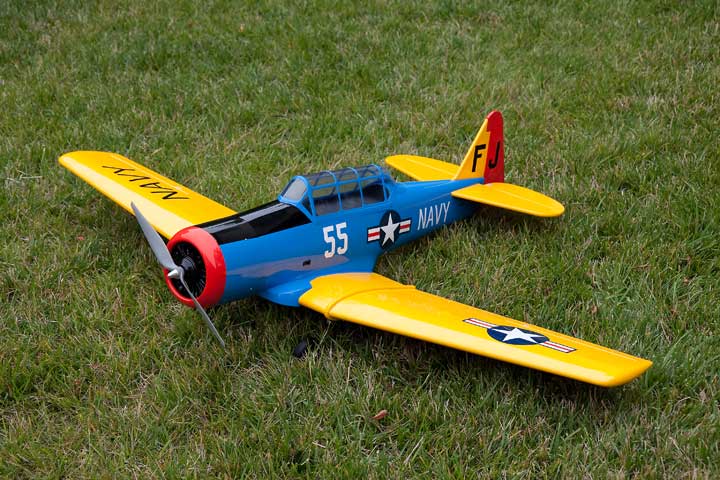 Gas powered ARFs are HEAVY. Converting to electric required a Big ass motor up front:

Here's the monster battery back I had to build for it:

Flys great. Has rectracts. Heavy. Need to keep the speed up. Requires nice long runway for takeoffs & landings.
---
Reactor 3D Biplane Electric ARF from ElectriFly.
Fantastic airplane. Flys precision pattern and 3D. Hot setup - goes straight up. Fully aerobatic.
---
Quiet Storm Electric ARF from Fliton.
Sad story...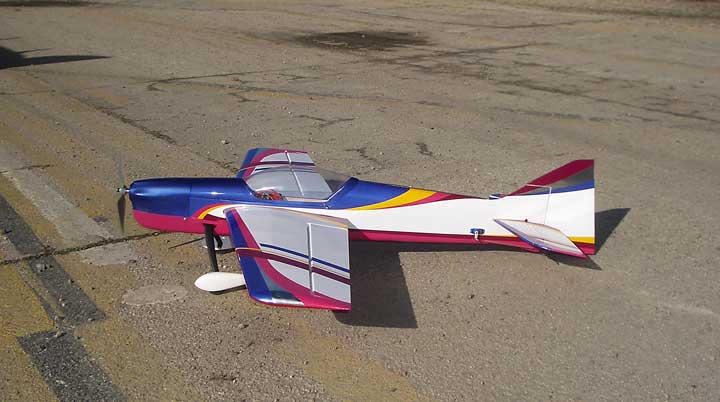 Great flying airplane. Setup for precision pattern aerobatics. One of my first to use the new Lipo batteries.
Had a Hacker B18-L motor with planetary 4:1 gearbox. ($200 motor). Lipo Batteries were just coming out.
Still weak - low output. I was having problems with the Speed Control shutting off because of low voltage at
full throttle, so I disabled the auto shutoff and over-amp protection so I could get as much juice as possible
from the whimpy batteries.

A year or so went by. Lipos got stronger. I got new batteries, put them in, but forgot that I had disabled the
over-amp shutoffs. Flew GREAT. Tons of power. Then the radio went dead, no control, crash.
Upon running to the plane, the nose was ON FIRE. Too much amps to the motor for too long = overheat.
Normal speed control would have shut down, but I had disabled everything, so it overheated,
burst into flames, and stopped sending power to the radio. Bummer.

---
Mini-Funtana 3D Electric ARF from E-Flight.
One of my first Electrics to use Lipos & Outrunner motors.
Flys good. Nothing special. Nice aerobatic plane.
I don't fly it much anymore.
---
AcroPro – Electric Kit from S/R Batteries.
One of the early pioneers of electric planes were the designers from SR Batteries.
They made Nicad Battery packs for the military, and the RC industry.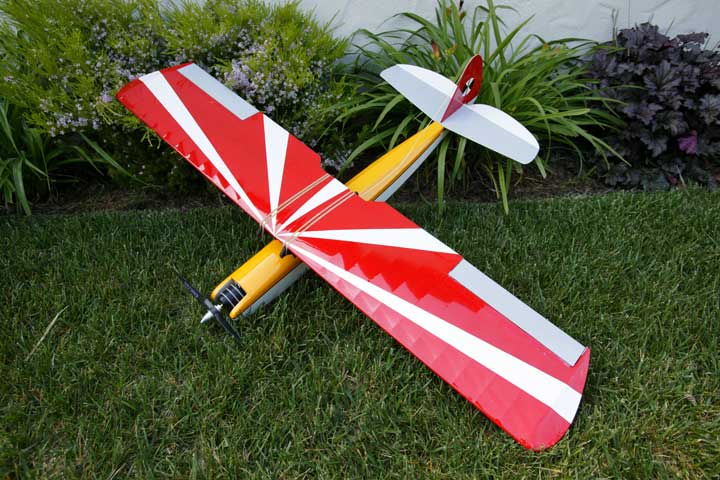 This is a great plane - fully acrobatic. I love the color scheme I designed for it.
Very visible in the air.
I have recently converted it to an outrunner motor and now it REALLY rocks.
---
Embat – Electric Kit - no longer available. RG-15 airfoil. Very slippery. Won't slow down.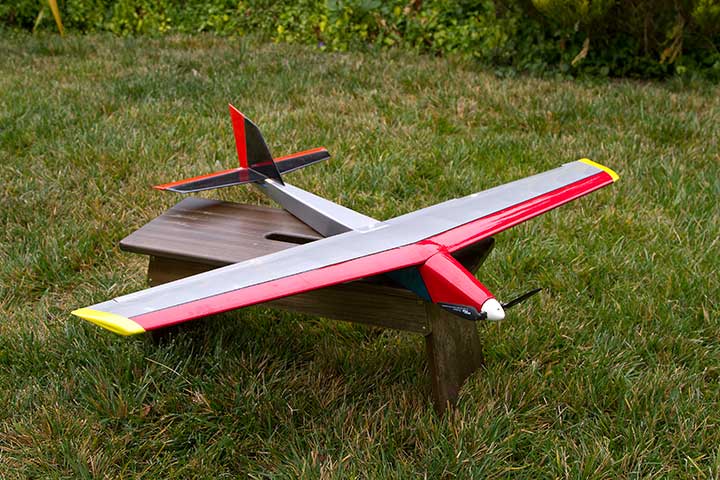 Huge Aveox motor and high-current nicads. Very heavy. Very fast. The silver is very hard to see in the sky.
Fantastic airplane. One of my best flyers.
---
Formosa – from GWS

Highly modified. Tape adds huge structral stiffness to foam. Added big geared motor. Flys fantastic.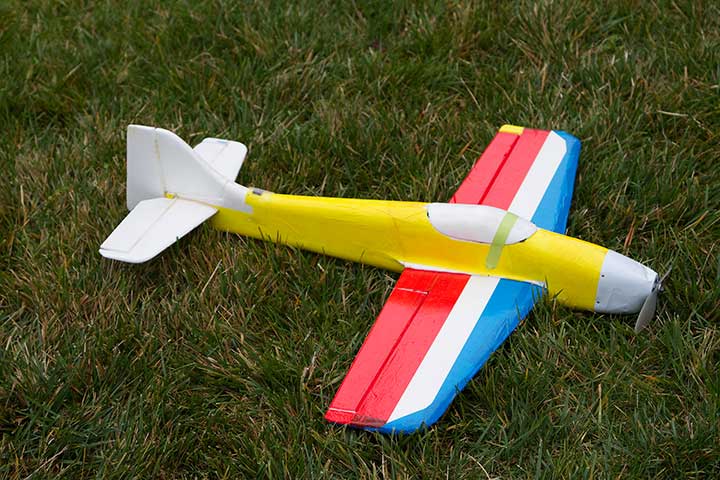 I practice my pattern manuevers with this plane.
---
Profile Foamy Extra – from Artistic Aerobatics.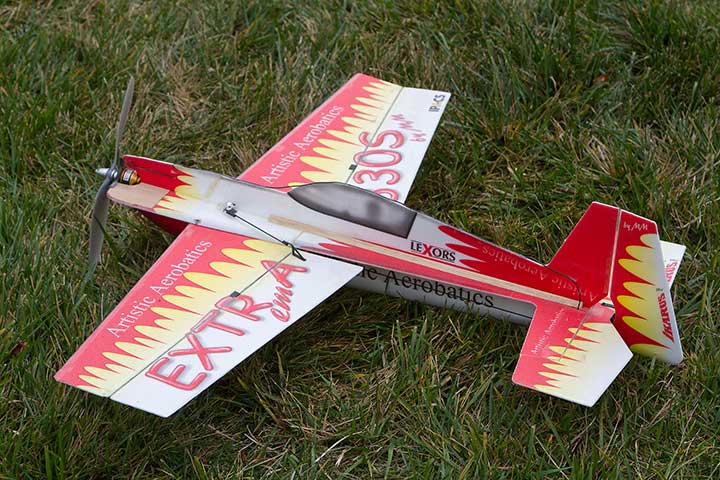 Thin flat foam and carbon rods. I use it to practice 3-D aerobatics.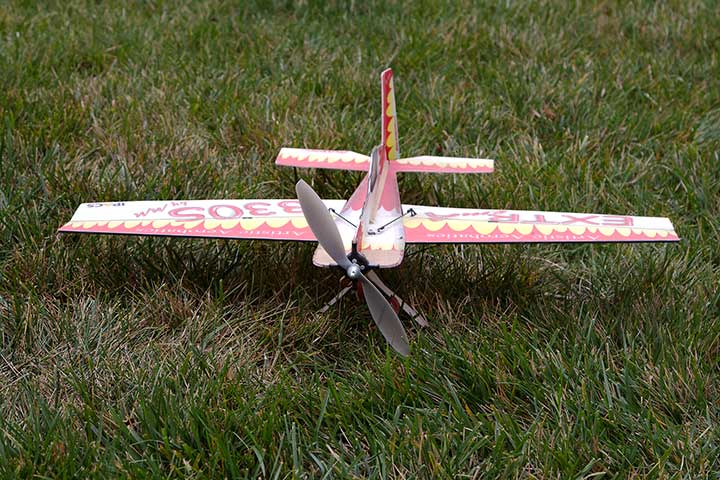 ---